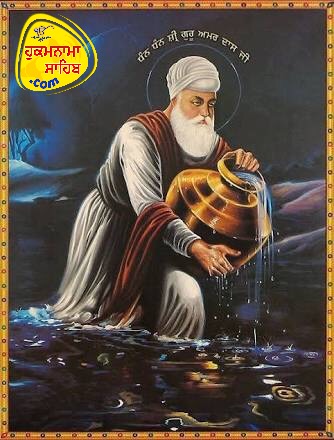 💐Happy Gurpurab💐
Guru Amar Das Ji was born to mother Bakht Kaur (also known as Lakshmi or Rup Kaur) and father Tej Bhan Bhalla on May 5, 1479 in Basarke village in what is now called Amritsar district of Punjab (India). He married Mansa Devi and they had four children which they named as Mohri, Mohan, Dani and Bhani. He heard Bibi Amro, the daughter of the Sikh Guru Angad Dev Ji, singing a hymn by Guru Nanak. He learnt from her about Guru Angad Dev Ji, and with her help met the second Guru of Sikhism and adopted him as his spiritual Guru who was much younger than his own age.
He is famous in the Sikh tradition for his relentless service to Guru Angad Dev Ji, with legends about waking up in the early hours and fetching water for his Guru's bath, cleaning and cooking for the volunteers with the Guru, as well devoting much time to meditation and prayers in the morning and evening.  Guru Angad Dev Ji named Guru Amar Das Ji his successor in 1552, instead of naming of his surviving son Shri Chand. After Amar Das became the third Guru, he continued his pilgrimages to religious sites, one of which is authenticated in a hymn of the Guru Granth Sahib.
He died in 1574, and like other Sikh Gurus he was cremated, with the "flowers" (remaining bones and ash after the cremation) immersed into harisar (flowing waters). The use of fire being most appropriate way was explained by Guru Nanak in religious terms of god Agni burning the trap of death, and Guru Amar Das was consigned to the same tradition.
Teachings
Guru Amar Das Ji emphasised both spiritual pursuits as well an ethical daily life. He encouraged his followers to wake up before dawn, do their ablutions and then meditate in silent seclusion. A good devotee, taught Amar Das, should be truthful, keep his mind in control, eat only when hungry, seek company of pious men, worship the Lord, make an honest living, serve holy men, not covet another's wealth and never slander others. He recommended holy devotion with Guru image in his follower's heart.
He was also a reformer, and discouraged veiling of women's faces (a Muslim custom) as well as sati (a Hindu custom). He encouraged the Kshatriya people to fight in order to protect people and for the sake of justice, stating this is Dharma.
Visit of Akbar
Guru Ji strengthened the tradition of 'Guru ka Langar' and made it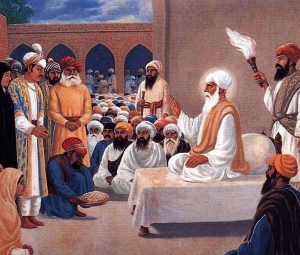 compulsory for the visitor to the Guru saying that 'Pehle Pangat Phir Sangat' (first visit the Langar then go to the Guru). Once the emperor Akbar came to see Guru Sahib and he had to eat the coarse rice in the Langar before he could have an interview with Guru Sahib. He was too much impressed with this system that he expressed his desire to grant some royal property for 'Guru ka Langar', but Guru Sahib declined it with respect. Guru Amardas Sahib persuaded Akbar to waive off toll-tax (pilgrim's tax) for non-Muslims while crossing Yamuna and Ganga, Akbar did so. Guru Amardas Sahib maintained cordial relations with emperor Akbar.
Social Changes
He preached against Sati and advocated the re-marrying of widows. He asked the women to discard 'Purdah' (veil). He introduce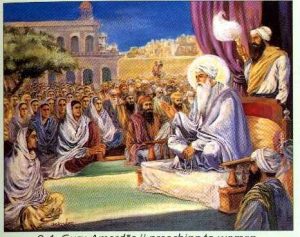 d new birth, marriage and death ceremonies. Thus he raised the status of women and protected the rights of female infant who were killed without question as they were deemed to have no status. These teachings met stiff resistance from the Orthodox Hindus and Muslim fundamentalists. He fixed three Gurpurbs for Sikh celebrations: Dewali, Vaisakhi and Maghi. Visiting of Hindu pilgrimage centres and paying tributes to the Muslim places were prohibited.
When the Raja of Haripur came to see the Guru. Guru Amar Das insisted that he first partake a common meal from the community kitchen, called langar, irrespective of his caste. The Raja obliged and had an audience with the Guru. But one of his queens refused to lift the veil from her face, so Guru Amar Das refused to meet her. Guru Amar Das not only preached the equality of people irrespective of their caste but he also tried to foster the idea of women's equality. He tried to liberate women from the practices of purdah (wearing a veil) as well as preaching strongly against the practice of sati (Hindu wife burning on her husband's funeral pyre). Guru Amar Das also disapproved of a widow remaining unmarried for the rest of her life.
Guru Amardas Sahib constructed Baoli at Goindwal Sahib having eighty-four steps and made it a Sikh pilgrimage centre for the first time in the history of Sikhism.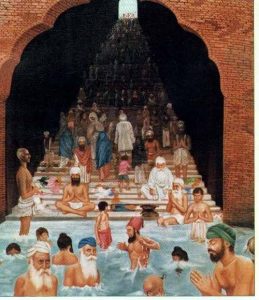 He reproduced more copies of the hymns of Guru Nanak Sahib and Guru Angad Sahib. He also composed 869 (according to some chronicles these were 709) verses (stanzas) including Anand Sahib, and then later on Guru Arjan (fifth Guru) made all the Shabads part of Guru Granth Sahib.
Once during several days of rain while Guru Amar Das was riding by a wall which he saw was on the verge of falling he galloped his horse past the wall. The Sikhs questioned him saying; "O Master, you have instructed us, 'fear not death, for it comes to all' and 'the Guru and the God-man are beyond the pale of birth and death', why did you then gallop past the collapsing wall?" Guru Amar Das replied; "Our body is the embodiment of God's light. It is through the human body that one can explore one's limitless spiritual possibilities. Demi-gods envy the human form. One should not, therefore, play with it recklessly. One must submit to the Will of God, when one's time is over, but not crave death, nor invite it without a sufficient and noble cause. It is self surrender for the good of man that one should seek, not physical annihilation."
Source: Wikipedia